When it comes to kid's shoes, you may be used to seeing overly supportive, thick-soled shoes that are almost orthopedic in nature. In our experience, the characteristics to look for in children's natural footwear keenly resemble what we recommend for adults. Here's a quick-start "foot healthy" guide for your next shoe shopping trip with your kiddos, along with some recently tested and raved-about recommendations at the end of this article.
Features to Look For:

1. Foot-Shaped Sole: Examine the shoe's sole. If the outline of the shoe looks like a human foot (widest at the tips of the toes and triangular in shape), this is a great starting point. You've probably heard us say it before: you were born with perfect feet! A baby's foot possesses an optimal foot shape, so maintaining that shape by wearing naturally-shaped shoes will facilitate the foot's structural development in a healthy manner. In comparison, shoes that taper in the toe box and are widest at the ball of the foot push the toes together, eventually altering the foot's ideal shape, and potentially leading to bunions, hammertoes, neuromas, plantar fascia pain, and overpronation.
2. Thin: Beyond being foot-shaped, how thick is the sole? Protective features like an excessively grippy or chunky sole are not always necessary for kid's footwear; a thin, protective material covering the bottom of the foot will do just fine. As Dr. McClanahan (founder of Correct Toes) has mentioned in previous posts and videos, going barefoot is also a great option! He recommends thin-soled shoes to promote proprioception and feeling in the feet, which helps children gain sensory information of their environment and further develop their nervous system.
3. Flat: Is the shoe completely flat from the heel to the toe? Here we are looking to see if there is any elevation, typically in the heel or toes, that causes the foot to sit upon an uneven or tilted surface. Shoes with completely flat soles and no heel elevation are considered "zero-drop" and are ideal for kids and adults alike. An additional feature to look out for is toe spring, in which the front of the shoe curves upwards. This unnaturally extends and holds the toes above the ball of the foot and is not what we generally recommend. However, we find that if the toe spring is flexible and you're able to push down on a shoe's toe spring and it yields under physical pressure, this is likely an acceptable choice as the toes can still move within the shoe.
4. Flexible: Try twisting the shoe in different directions. Does it give in and bend easily? A shoe that allows feet to move naturally is optimal as it does not impede the foot's function with an unnecessarily rigid or constricting structure. A flexible sole allows the the joints within the foot to move freely as they need to, and allows the intrinsic muscles of the foot to strengthen and support the foots structure.
Correct Toes Approved Kid's Shoes
Needing ideas of what children's shoes meet the criteria of being foot-shaped, thin, flat and flexible? We put a batch of kids shoes to the Correct Toes test to find the best natural foot health options for your kids. Our shoe reviews are based on how well they adhere to the fundamental five features of footwear (mentioned above).
All of the options below passed all of the fundamental five testing with flying colors. They all are very light, flat and thin, completely flexible, and are widest at  the tip of the toes, which is crucial for allowing kid's feet to develop naturally and with strength. You can't go wrong with any of the following shoe choices for your kids:
Wildling – Correct Toes Approved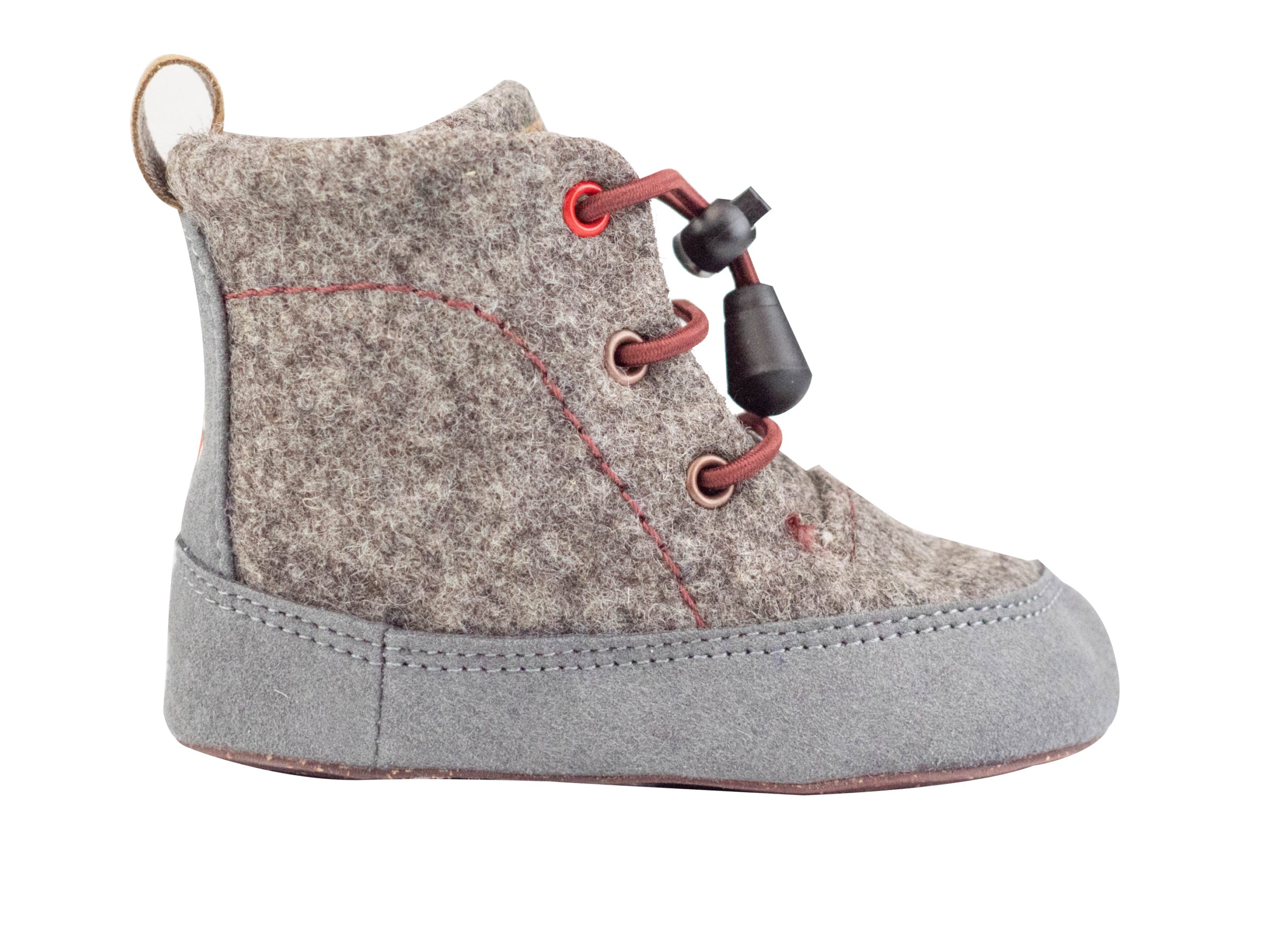 Handcrafted boot made of 100% virgin felted wool, featuring a 1 mm rubber sole with built-in lacing. The parent of our tester noted that she appreciate how easy these were to take on and off. The wool is also a welcome feature for the coming cold weather. Note: this shoe runs small, sizing up one size is recommended. Shoe size ranges from EU 18-22, or US baby 2-6.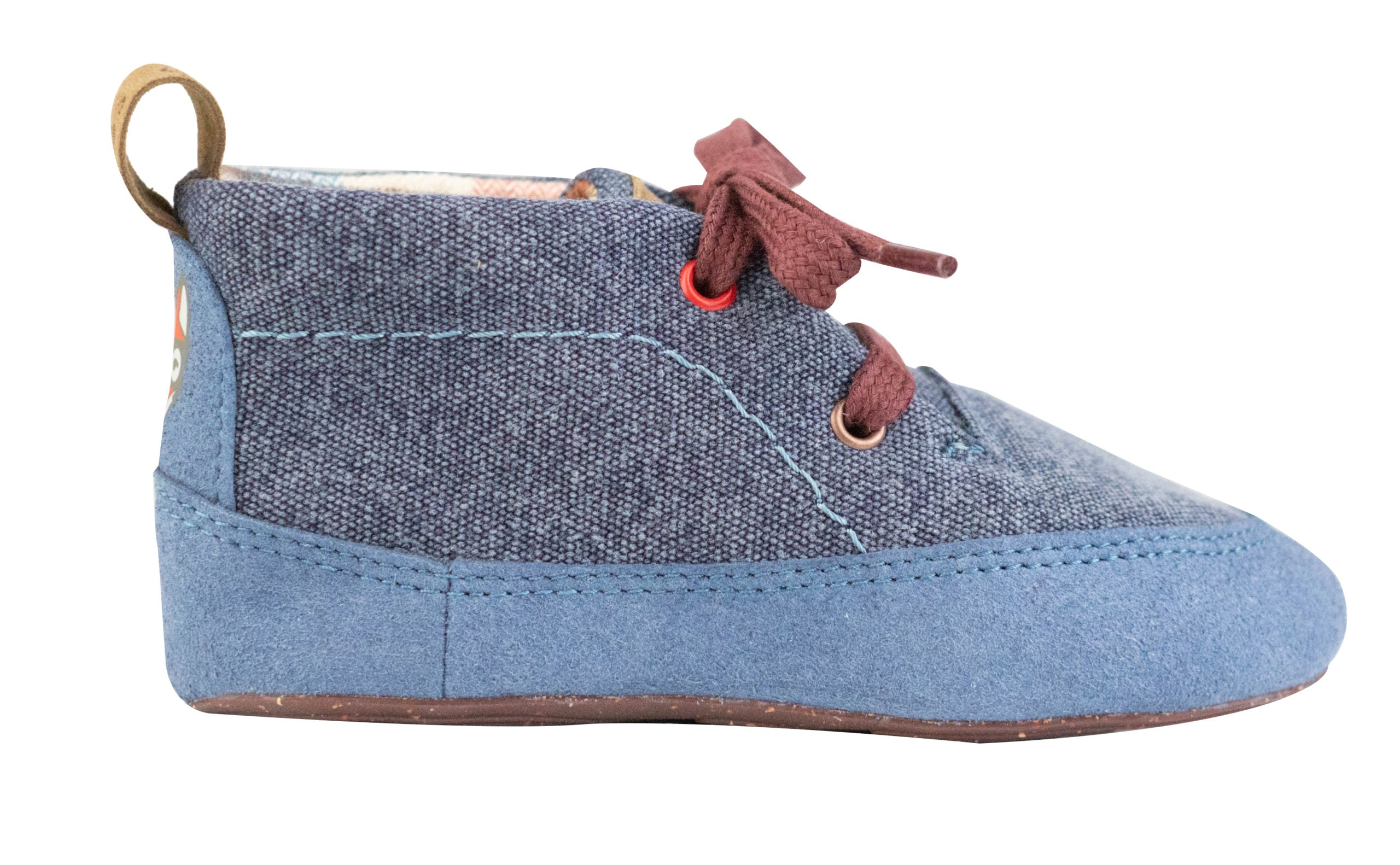 Handmade 100% cotton canvas upper with cozy and comfortable layer of hemp-flax fleece lining.  Recycled rubber and cork outsole. These work great for our tester's parent! There no fuss in getting them on and off, and the shape doesn't pinch the toes together. Note: this shoe size aligns with FitKit guide available on Wildling's website. Shoe size ranges from EU 18-22, or US baby 2-6.
Softstar – Correct Toes Approved
Classic Mary Jane style shoe (pictured above) with soft leather upper, scalloped trim detail, and elastic shoe strap. The parent of our wear tester raved about how easy these shoes are put on and take off. Buckle strap was neither too tight nor too loose. Sizes range from 6-12 with width options: narrow, regular, and wide.

Closed-toe shoe with adjustable ankle strap. Water resistant with full-grain leather upper and thin rubber soles. The parent of our tester had nothing but positive things to say about this shoe. There soft leather did not rub on her baby's feet or ankles and were easy to put on and take off. Extensive shoe sizing ranges from size 2-5 (newborn-toddler) and width options: narrow, regular, and wide.
Splay – Correct Toes Approved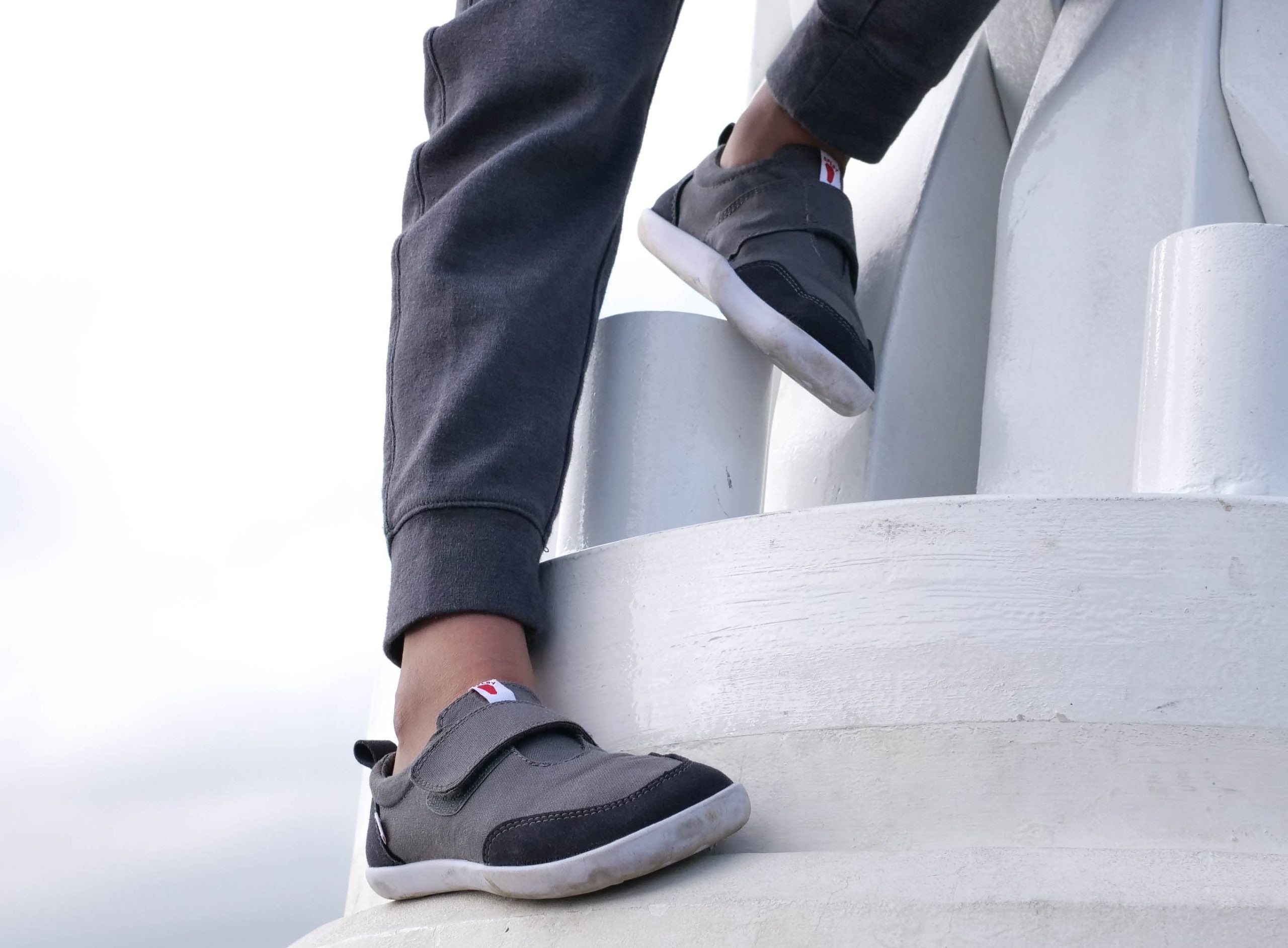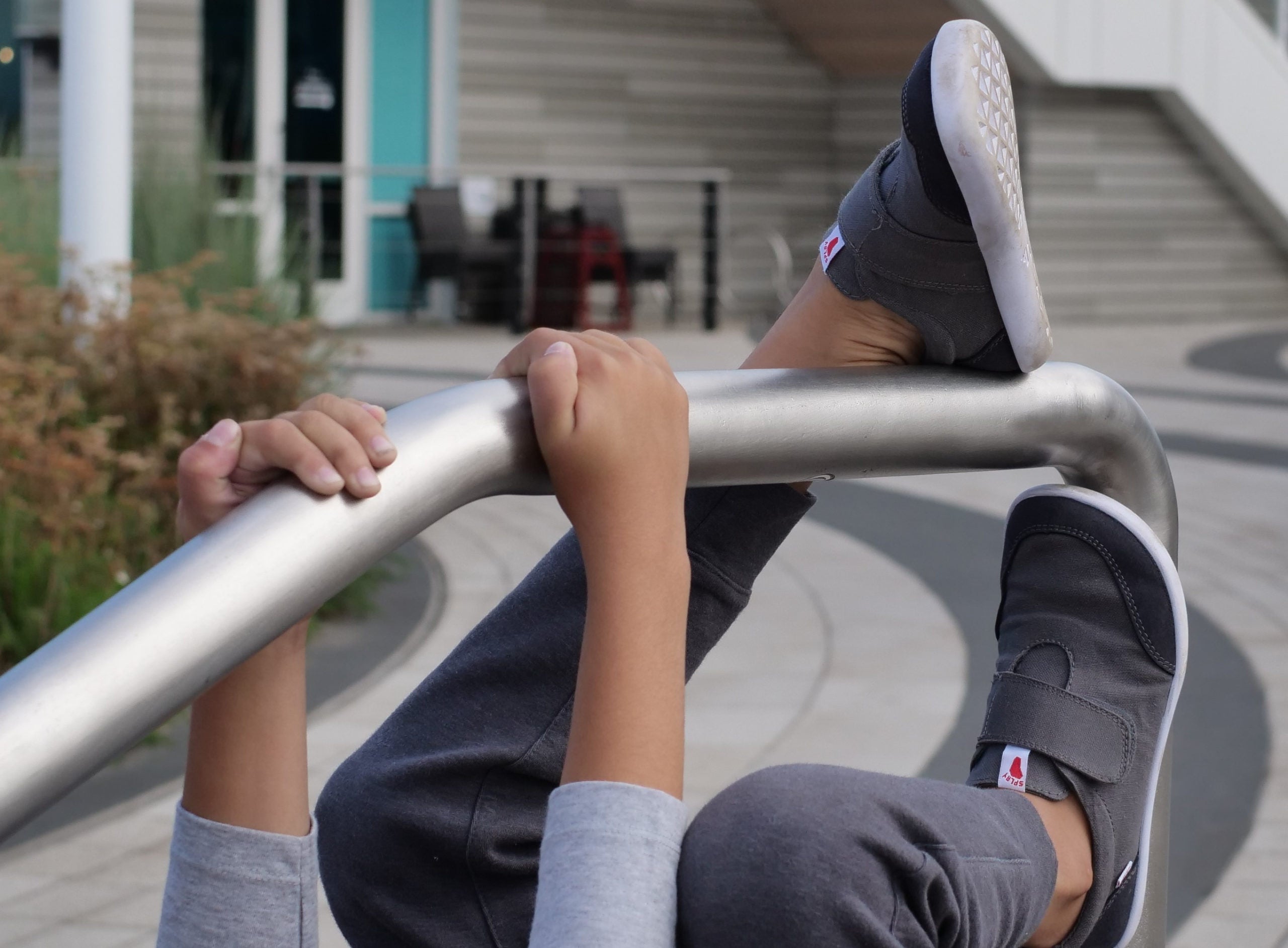 – Loco: 100% cotton canvas upper featuring Velcro ankle strap, protective toe and heel microfiber guards, and rubber outsole. Our kid tester loved the flexibility and light weight of these shoes! The velco strap made them easy to slip on and get off, while at the same time added a sense of security to the fit. The parent of the tester noted that the kid tester seemed to really enjoy being active  in this shoe, which is a huge bonus! The Loco shoe sizes ranges from 12C-7Y, offering a fantastic foot healthy fit for most.
Magical Shoes – Correct Toes Approved

Handcrafted of natural cowhide, foot-shaped, with a 3.5 mm rubber sole. Shoe size ranges from EU 20-28 with sizing chart available on their website. In testing, these shoes were fantastic. The parent of our wear tester reported no hot spots or issues on his child's feet or ankles. He also reported that the shoes are quite durable and easy to use.
Thankfully, how we evaluate natural footwear generally stays the same as children grow. By continuing to choose healthy footwear options that are foot-shaped, thin, flat and flexible, we hope to keep our children's feet happy and pain-free for years to come.